Durable Rugged Protective Armor Case for Apple Watches

SHIPS FAST

EASY RETURNS

100% SECURE CHECKOUT

24/7 CUSTOMER SERVICE
Details
Shipping & Handling
Returns & Refunds
These Are Selling Like

HOTCAKES

🔥

- Click "ADD TO CART" To Get Yours Now!



WARNING ❗❗ THESE PRODUCTS ARE NOT SOLD IN PHYSICAL STORES!
Live life to the fullest without worrying about damaging your Apple Watch!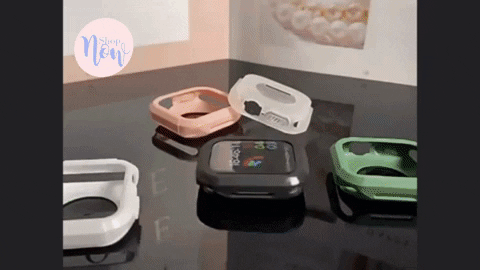 Are you tired of worrying about damaging your precious Apple Watch during outdoor activities or sports?
Look no further than the Durable Rugged Protective Armor Case for Apple Watches from Inspire Watch!
This armor case is designed to withstand harsh conditions and offers reliable protection for your watch against scratches, drops, and impacts!
The durable and shock-absorbing construction keeps your watch safe and secure, giving you peace of mind during the most demanding activities!
What's more?
⌚ The case features precise cutouts that allow easy access to all buttons, controls, and sensors.

⌚ You can also easily install or remove the case without damaging your watch.

⌚ Plus, the rugged design adds a stylish edge to your Apple Watch, making it perfect for everyday wear as well.
Specifications:

●  Material: TPU
●  For Apple Watch Series 7/SE/6/5/4/3/2/1
Why Choose this Rugged Armor Case for Apple Watches
When it comes to protecting your Apple Watch, the Durable Rugged Protective Armor Case from Inspire Watch is the ideal choice. Made with high-quality TPU material, this case offers superior protection against scratches, drops, and impacts that can damage your watch.
What sets this case apart is its matte finish, which brings a modern flair to your watch while keeping it lightweight. The finish provides a comfortable grip that's easy to handle, making it an excellent choice for active individuals who need reliable protection without added bulk.
Overall, the Inspire Watch Durable Rugged Protective Armor Case offers a balance of style and protection, making it a great choice for anyone who wants to keep their Apple Watch safe while looking great!
DON'T JUST TAKE OUR WORD FOR IT…
GET

REAL REVIEWS

FROM

REAL CUSTOMERS

!
Choose your Protective Armor right now and TAKE ADVANTAGE of an INCREDIBLE DEAL!
Have Questions? The Answers are Here!
Q: Is the Durable Rugged Protective Armor Case improves the water resistance of my watch?
A: While the case is designed to protect your Apple Watch against everyday wear and tear, it does not provide any additional water resistance to your watch.
 ∙ · • ⦿ • · ∙
Q: Can I charge my Apple Watch with the case on?
A: Yes, you can charge your Apple Watch with the case on. The case has a precise cutout that allows for easy access to the charging port on your watch.
 ∙ · • ⦿ • · ∙
Q: Is the Durable Rugged Protective Armor Case easy to clean?
A: Yes, the case is easy to clean. You can simply wipe it down with a damp cloth or use mild soap and water for more stubborn stains.
InspireWatch offers WORLDWIDE INSURED SHIPPING!
We ship our products from several different warehouses outside of the US.
If you order several different products, they might arrive separately and on a different day. You will get the tracking number directly to your email about 1-3 business days after purchase.
Please allow 7-14 business daysfor the item to arrive, depends on your location.
Your happiness is our top priority. If for any reason you need help with your purchase, email us with your order number and we will do our best to assist you.
Not 100% happy with your purchase? Simply send us an email to support@inspirewatch.com and our dedicated team will solve any problem, or click here for the customer service contact form!

With limited exceptions, valid returns are refunded in the form of store credit. Damaged/defective items will be subject to an exchange if in stock.

All store credit, refunds, and/or exchanges that are due will be issued within 3 to 5 business days after the return is processed.

You can find additional information about our Return Policy HERE.