Minimalist Thin Matte Bumper Frame for Apple Smart Watches

SHIPS FAST

EASY RETURNS

100% SECURE CHECKOUT

24/7 CUSTOMER SERVICE
Details
Shipping & Handling
Returns & Refunds
Limited Stocks Available - Experience Time in a Whole New Way - Shop Today!

Wrap your Apple Watch in a sleek embrace of protection and style!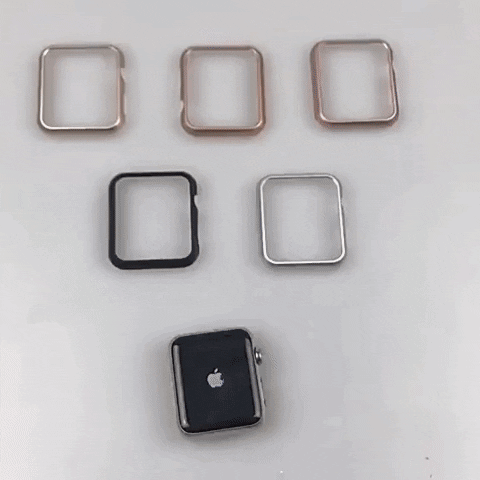 It's time to embrace a minimalist approach to protection and style with Inspire Watch Minimalist Thin Matte Bumper Frame for Apple Smart Watches!
Features:
Minimalistic and ultra-thin profile

Reliable defense against the daily bumps, scratches, and dings

Sleek and modern look

Tailored exclusively for Apple Smart Watches

Unrestricted access to all the buttons and controls

Easy to install and remove
The minimalist design of the Inspire Watch bumper frame maintains the slim profile of your Apple Smart Watch while providing a reliable shield against everyday wear and tear. Its thin construction adds a layer of defense without sacrificing the elegance and sophistication you expect from your Apple Watch.
GET YOURS NOW BEFORE THEY'RE SOLD OUT!
FAQs
Q: Will the bumper frame add any significant weight or bulk to my Apple Watch?
A: The Inspire Watch bumper frame is designed to be lightweight and thin, minimizing any additional weight or bulk to your Apple Watch while providing the necessary protection.
 ∙ · • ⦿ • · ∙
Q: Can I still change the watch bands with the bumper frame attached?
A: Yes, you can easily change the watch bands without removing the bumper frame. It allows for hassle-free band swapping to suit your style and preferences.
InspireWatch offers WORLDWIDE INSURED SHIPPING!
We ship our products from several different warehouses outside of the US.
If you order several different products, they might arrive separately and on a different day. You will get the tracking number directly to your email about 1-3 business days after purchase.
Please allow 7-14 business daysfor the item to arrive, depends on your location.
Your happiness is our top priority. If for any reason you need help with your purchase, email us with your order number and we will do our best to assist you.
Not 100% happy with your purchase? Simply send us an email to support@inspirewatch.com and our dedicated team will solve any problem, or click here for the customer service contact form!

With limited exceptions, valid returns are refunded in the form of store credit. Damaged/defective items will be subject to an exchange if in stock.

All store credit, refunds, and/or exchanges that are due will be issued within 3 to 5 business days after the return is processed.

You can find additional information about our Return Policy HERE.